View our Trini Homes For Sale listings to get to updated properties for sale in Trinidad and Tobago. When looking for a home in Trinidad and Tobago you need to ask yourself what are my must have?
Do I want a new home? Can I afford living in a gated community? I need a luxury home with pool? These are some questions buyers ask when looking to buy a trini homes.
New Trini Homes For Sale
Many first time home buyers prefer to buy a new home. Buying a new home has advantages:
Low Maintenance
New construction is meant to last for a while, so new-home owners are not likely to install a new roof or replace the water heater. At least not for 10 to 20 years.
The New Factor
Let's face it, there's nothing like owning something that's brand new and has never been used, whether that's a car or a home or a husband.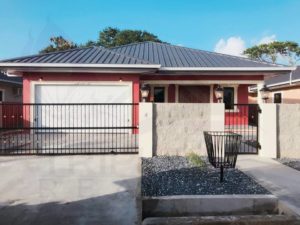 Area: Olive Grove Estate | Couva
Bedrooms:  3
Bathrooms: 2
Type: Residential
Parking: 2
Size: 5,000 sq ft
Price: $1,800,000.00 .
Contact: (868)-759-1712
Trini Homes For Sale In Gated Communities
Gated communities provide the perceived or real sense of security for home owners. There are several gated communities throughout Trinidad and Tobago. TNT homes For Sale offers these homes for sale in gated communities.
Area: Signature Park | Arima 
Bedrooms:  4
Bathrooms: 3.5
Type: Residential
Parking: 4
Size: 6,847 sq ft
Price: $2,600,000.00 (neg)
Contact: (868)-759-1712
Having yard space in a secured community is plus for children to play. It allows open space for entertaining and extending based on need. Signature Park homes offer convenience at an affordable price.
Luxury Trini Homes For Sale
Area: Columbus Circle | Westmoorings
Bedrooms:  4
Bathrooms: 4
Type: Residential
Parking: 3
Size: 5,500 sq ft
Price: $7,200,000.00 .
Contact: (868)-759-1712
Westmoorings is one of the most sort after neighborhoods in west Trinidad. Like Millennium Park and Trincity  in the east, Westmoorings and Westmall offer luxurious home for sale.
Searches related to "trini homes for sale"
houses for sale in gulf view san fernando
home for sale in tunapuna trinidad
updated home for sale in bon air arima