How much do you want this Pointe A Pierre home for sale? With a recent valuation you pay what the home is worth. Pointe A Pierre is a quiet neighborhood north of San Fernando and south of Claxton Bay.
Pointe A Pierre Home For Sale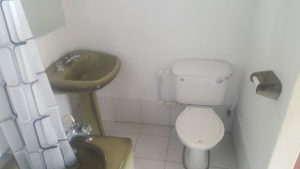 Area:  Plaisance Village | Pointe A Pierre
Bedrooms:  5
Bathrooms: 3
Type: Residential
Parking: 4
Size: 5,000 sq ft
Price: $ 1,685,000.00 . TTD (neg)
Contact: (868)-759-1712
Description of Property:
2 levels, solid concrete structure
5 bedrooms total
Approximately 29 years old but extensively renovated
Lower floor 2 bedrooms; 1 bath,; kitchen; spacious living room, laundry area.
Upper floor 3 bedrooms, 2 baths ( 1 en suite), spacious, open plan kitchen/ Living/Dining area,
Laundry area, front porch, 2 sets of outside stairs.
Total living space 2285 sq. ft.
Land size: 5000 sq. ft. Freehold.
Paved parking area for a minimum of 4 vehicles.
Enclosed by front wall with metal sliding gate and chain link fence.
Safe,serene, friendly neighborhood.
Conveniently located, minutes away from Petrotrin, Point Lisas, schools, churches and commercial districts.
For a family this is a great option because of the space available and number rooms. As an investor you have a solid structure which can earn approximately seven thousand per month $7,000.00. With 30 x 50 sq ft additional apartments can be built. Situated minutes away from the police station and Marabella rental demand is high.
Searches related to Pointe a Pierre home for sale
home for sale in south trinidad
marabella home for sale
house for sale in central trinidad
trinidad homes for sale 2018