Buy land now for the future. TnThomesforsale.com offers this lot of land for sale in San Fernando. Location and corner property influence the price of this lot of land. Flat land with all ammenities within walking distance makes this a great deal.
Land For Sale In San Fernando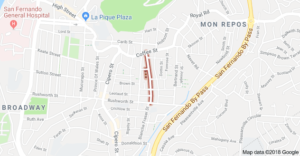 Area:  Drayton & Claire Street | San Fernando
Type: Fre0ehold
Size: 3,718 sq ft
Price: $ 1,000,000.00 . TTD (neg)
Contact: (868)-759-1712
Ref: TNT#145
Drayton Street is located between Coffee Street to the north and Rushworth Street to the south. Apartments is an option for this lot of land. In addition to a commercial office will be ideal.
A two story home with views of the San Fernando hill is also another option. Land in San Fernando is in high demand and finding a lot sale in a prime location will not last long on the open market.
Searches related to land for sale in san fernando trinidad
cheap land for sale in trinidad and tobago
home for sale in pointe a pierre
land for sale south trinidad
claxton bay house for sale
luxury homes for sale in trinidad and tobago
land for sale in trinidad south
San Fernando is the second city in Trinidad and Tobago. Within the city of San Fernando there are many attractions. Naparima Hill or San Fernando Hill, Gulf City Mall, shopping on High Street and many more.
Residential areas include, Gulf View, Palmiste, Bel Air, Union Hall and many more. Buying property in south Trinidad is a good investment.