TnT Homes For Sale offers homes for sale in south Trinidad.  We are a real estate company and offer this house for sale in Gasparillo.
House For Sale In Gasparillo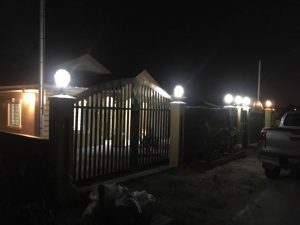 Area: Gasparillo | San Fernando
Bedrooms: 3
Bathrooms: 2
Parking: 2
Size: 5,000 sq ft
Price: TTD: 1,700,000.00 (neg)
Contact: (868)-759-1712
Ref: OA1197-623
Status: Available
This is a brand new house and land for sale in Gasparillo, Trinidad and Tobago. The features and quality of work are fantastic.
🔸️5000 square feet of land, with 1613 square feet of living space.
🔸️3 bedrooms with three bathrooms (Self Contained)
🔸️Porcelain tiles, 30 x 30.
🔸️Granite countertops.
🔸️Apple Matte Wood kitchen.
🔸️Built in counter top electric stove.
🔸️Reinforced double gates.
🔸️Parking for approximately 6 cars.
🔸️Reinforced, Deep Earth Foundation construction with sealed walls.
🔸️Garage, with accompanying garage door.
This home is more in ready and has all the necessary documents for financing through the bank.
 Searches related to "gasparillo house for sale"
house for rent in gasparillo trinidad
gasparillo townhouses
land for sale in south trinidad
land for sale in gasparillo trinidad
homes for sale in marabella trinidad and tobago
palmiste house for sale
roystonia homes for sale 2016
homes for sale in gulfview trinidad