TNT Homes For Sale is pleased to offer listings of Tobago Real Estate For Sale. Find Guest Houses, Land, Residential, Townhouses and Villas on sale.
Tobago Real Estate For Sale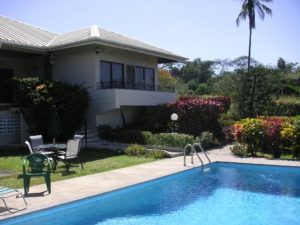 Area: Mt Irvine | Tobago
Bedrooms: 5
Bathrooms: 10
Type: Commercial / Residential
Parking: 5
Size: 21,500 sq ft
Price: CAN: 1,050,000.00 (neg) .
Contact: (868)-759-1712
Ref: TNT057
Enchanting Island Apartment Holiday Resort Located In The Island Of Tobago, Twin Island Of Trinidad. These Spacious Self Contained Apartments is ideal For Honeymooners, Families & Small Groups.
Breathtaking Views Of The Buccoo Reef, One Of The World's Most Beautiful Natural Coral Reefs; Walking Distance To White Sandy Beaches, Exotic Restaurants & Excellent Sporting Facilities Including The Brilliant Emerald Green Of A Pga Golf Course. Only 12 Minutes From Airport. See More
Area: Englishman's Bay | Tobago
Bedrooms: 4
Bathrooms: 4
Parking: 10
Size: 88,000 sq ft
Price: TTD: 4,868,500.00 | USD: 749,000.00 (neg)
Land Price: $ 55.32 per sq ft
Contact: (868)-759-1712
The villa is perched along a ridge overlooking picturesque Englishman's Bay and the Caribbean, surrounded by three acres of lush, mature landscaping and orchards. It is truly something special for anyone looking for houses to buy in Tobago. See More
Buying Tobago Real Estate For Sale
Owning property for sale in Tobago is a great investment for both locals and foreigners. The tropical weather is a year round attraction for visitors around the world. As a result you can have a ready source of income from rentals.
Many houses and villas for sale have pools. This adds an alternative if for some strange reason a pool is preferred to the lovely white sand beaches that are just minutes away.
Searches related to Tobago Real Estate For Sale
caribbean villas tobago
land for sale tobago
cheap land for sale in tobago
island investments tobago
houses for sale tobago
homes for sale in tobago plantations