TNT Homes For Sale is pleased to offer this Trinidad and Tobago house for sale Ascot Gardens Arima. Heading south on the Omeara Road there is the gated community of Ascot Gardens. In close proximity to the Santa Rosa Park, Food Basket Complex and Signature Park. Piarco International Airport is only minutes away.
House For Sale Ascot Gardens
Area: Ascot Gardens | Arima
Bedrooms: 3
Bathrooms: 2
Parking: 2
Size: 5,000 sq ft
Price: TTD: 1,550,000.00 (neg) .
Contact: (868)-333-6493
Status: Available
Three bedroom house for sale in arima borough of Arima. A quiet neighborhood for families to foster and grow. Built in 2010, this is a well maintained home for sale Arima Trinidad. Move in ready with stainless steel appliances.
Bedrooms – (3)
There are three bedrooms. Two 12 x 12 and a master that is en-suite. Air-condition units and tiles are in all bedrooms.
Bathrooms – (2)
One bathroom serves the two smaller bedrooms and visitors. Master bathroom is private.
Kitchen
A bit on the small side and in need of more cupboards. The stainless steel appliances adds value and potential to the space.
Living Room
The living area measures approximately 14 x 14 and hold a living room set comfortably. Air-condition enhances the quality of the space. Modern colors and an accent wall make a statement.
Yard
Approximately 30 x 30 sq ft of yard space is available. Thousand gallon tank and pump is installed for an adequate supply of water.
---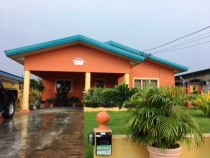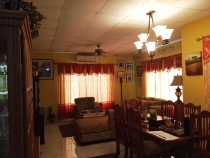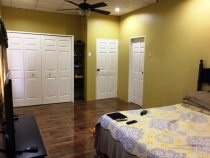 Area: Ascot Gardens | Arima
Bedrooms: 3
Bathrooms: 2
Parking: 2
Size: 5,000 sq ft
Price: TTD: 1,575,000.00 (neg) .
Contact: (868)-759-1712
Ref: OA0731092
Status: Sold
An open floor plan from living, dining, kitchen and laundry. There is a large master (en suite). There is a patio and lots of yard space with a well manicure garden and plants.
Searches related to "house for sale ascot gardens"
homes for sale in malabar arima
pictures of homes for sale in arima trinidad
houses for sale in santa rosa heights arima trinidad
davis court arima
the crossings arima
buena vista gardens arima
gated communities in arima trinidad
land for sale malabar arima
Did You Know?
Like many other regions in Trinidad, Arima, which emerged on the banks of what is known today as the Arima River. This in fact resulted in getting its name from an Amerindian word which means water.
Arima is aptly named since it is the Amerindian word for "water." Considered the "gateway" to the north-eastern section of Trinidad, it is approximately four square-miles in area and is situated about 16.2 miles (26 kilometers) east of Port-of-Spain. It was founded in 1757 by Capuchins from Spain who had travelled to Trinidad to convert the native Amerindians to catholicism.
Arima was made a Royal Chartered Borough by Queen Victoria on August 1, 1888, and, in 2000, had a population of almost 40,000 people which made it the third largest town in Trinidad, behind Port-of-Spain and San Fernando. North of Arima, the Asa Wright Nature Center is located in the hills of the northern range. Arima can be acessed by the Eastern Main Road and is located east of Arouca and west of Valencia. It includes the communities of Brazil Village, Calvary Hill, La Horquetta, San Raphael, and Santa Rosa.
The Crossings, Mandalay Gardens, Royal Palm Gardens, The Foothills and Lillian Park are just some of the residential areas that have increased in demand. As a result prices escalated making real estate purchasing for a selected few.