Owner migrating. Check out this Ascot Gardens Arima Home For Sale. A well maintained home in a quiet gated community in Arima Trinidad.
Ascot Gardens Arima Home For Sale
Ascot Gardens a gated community in east Trinidad. Located within Caparo in the borough of Arima. Situated on the southern side of the Churchill Roosevelt Highway with easy access to all amenities. Piarco International Airport, Guanapo and St. Helena are locations less than ten minutes away.
Buy This Ascot Gardens Arima Home For Sale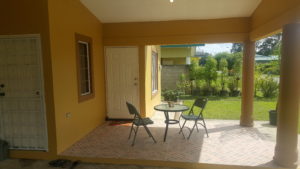 Area:  Ascot Gardens | Arima 
Bedrooms: 3
Bathrooms: 2
Parking: 4
Size: 5,000 sq ft
Land: Freehold
Price: TTD 1,445,000.00 (neg) .
Contact:  (868)-759-1712  
Ref: TnT1071
Price adjusted for quick sale. A quiet neighborhood for families to foster and grow. Built in 2010, this is a well maintained home for sale in Arima Trinidad. Move in ready with stainless steel appliances (TBN).
Bedrooms – (3)
There are three bedrooms. Two 12 x 12 and a master that is en-suite. Air-condition units (needs repair) and tiles are in all bedrooms.
Bathrooms – (2)
One bathroom serves the two smaller bedrooms and visitors. Master bathroom is private.
Kitchen
Women will need to update this kitchen. A bit on the small side and in need of more cupboards. The stainless steel appliances adds value and potential to the space.
Living Room
The living area measures approximately 14 x 14 and hold a living room set comfortably. Air-condition enhances the quality of the space. Modern colors and an accent wall make a statement.
Yard
Approximately 30 x 30 sq ft of yard space is available. Bearing Chinese coconut trees are in the back yard. Thousand gallon tank and pump is installed for an adequate supply of water.
Upgraded Ascot Gardens Home For Sale
Cheap Homes For Sale In Trinidad and Tobago
Searches related to Ascot Gardens Arima Home For Sale
ascot gardens arima trinidad
homes for sale in arima trinidad
house for sale in santa rosa heights arima
homes for sale in trinidad and tobago
pictures of homes for sale in arima trinidad
homes for sale in malabar arima
gated communities in arima trinidad
houses for sale in malabar arima trinidad
the crossings arima