Looking for a home to rent in east Trinidad? TnTHomesForSale offers a well maintained three bedroom home for rent in Arima Trinidad in a gated community.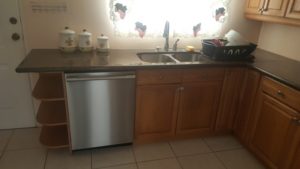 Area: Ascot Gardens | Arima
Bedrooms: 3
Bathrooms: 2
Parking: 2
Size:  5,000 sq ft
Price: TTD: 6,000.00 per/month
Contact: (868)-759-1712
Bedrooms – (3)
There are three bedrooms. Two 10 x 12, one 12 x 12 which is the en suite master. Tiles are in all bedrooms.
Bathrooms – (2)
One bathroom serves the home and the master bedroom has a private bathroom
Kitchen
Upgraded stainless steel appliances.
Living Room
The living area measures approximately 14 x 14 and hold a living room set comfortably.
Yard
Approximately 30 x 30 sq ft of yard space is available. Land to build pool or add second level. Thousand gallon tank and pump is installed for an adequate supply of water.
Apartment For Rent In St. Joseph
TnTHomesForSale.com offers this apartment for rent in St Joseph. This is an affordable two bedroom apartment in Ramkalawan Street, St Joseph. This apartment for rent comes with the following:
Bedrooms: 2
Bathrooms: 1
Living Room
Kitchen
Price: $2,100.00 per month
One bedroom is 12 x 12 and the other is 10 x 12. This apartment is suited for a couple or a single person. Situated within walking distance of Medical Associates and five minutes from Curepe. There is easy access to transportation.
The compound has water tanks and a pump for adequate water supply. The apartment has it's own meter and tenant pays that cost.
St Augustine Apartment For Rent
Check out TnT Homes For Sale.com two bedroom St. Augustine apartment for rent. This apartment for rent is located 1 minute away from the PBR and 5 minutes away from UWI.
Two bedrooms and one bathroom apartment for rent in St. Augustine for student of single professional. Located within walking distance of Joe's Pizza, St Augustine Medical Hospital, Bus Stop, UWI tennis courts and much more
Price: $2,300.00
Tel: 868 759 1712
SEMI-FURNISHED.
Searches related to home for rent in Arima Trinidad
homes for sale in malabar arima
3 bedroom house for rent in arima borough of arima
apartments for rent in malabar trinidad
houses in the crossings arima trinidad for sale
houses for sale in buena vista gardens arima
trinidad houses for rent
land for sale arima la resource
apartments for rent in cascade trinidad