This is about location, location and location. This Arouca house for sale is minutes from the bus route and on a quiet street. A FIXER UPPER home that needs a personal touch of the new owner.
House For Sale In Arouca – Bon Air West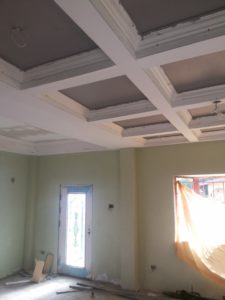 Area: Periwinkle Drive, Bon Air | Arouca
Bedrooms: 4
Bathrooms: 2 (1 incomplete)
Parking: 3
Size: 4,000 sq ft
Price: TTD: 1,550,000.00 (neg)
Contact: (868)-759-1712
Ref: TNTHFS007
Status: Sold
Home For Sale In Arouca Trinidad – Features
This two storey home has all the basic infrastructure for a large family or small family with rental potential.
The large family – On the ground level there is large open plan design. There is a living room, dining room,crown moldings, tile floor, steel windows, bedroom, storage area, kitchen, washroom, toilet and bath. An internal staircase to the first floor where you enjoy another three bedrooms, kitchen, bathroom and an extra room. One bedroom can become the master. There is a lovely porch with a serene view of the northern range.
The small family – On the ground floor there is potential to for two bedrooms, living room, dining room, kitchen, toilet and bath apartment for rent. Apartment rental in the area for a two bedroom apartment ranges between $3,000.00 – $5,000.00. The first floor can be your home for husband and wife with a child. There is space for parking 3 cars.
The Priority Bus Route is 5 minutes walk away, Trincity Mall, Piarco International Airport, Schools, Churches and other amenities are all in close proximity.
Searches related to house for sale in arouca trinidad
houses for sale in diamond vale Trinidad
sunrise park Trincity
millennium park Trincity house for sale
homes for sale in trincity trinidad
cunupia land for sale
the foothills d'abadie Trinidad
houses for sale in diego martin Trinidad
Do you own a home in east Trinidad and looking online to compare prices? TNTHomesForSale can assist. Our real estate agents can provide data on pricing your home.